December 6, 2022
The Fauci full deposition – held on November 23, 2022 – I can save you sometime reading the attached link below, Fauci couldn't "recall" 147 times during questioning. https://ago.mo.gov/docs/default-source/press-releases/135885afauci112322_full_redacted.pdf?sfvrsn=35f4a425_2
The 446-page transcript of Fauci's deposition in lawsuit alleging he + other Biden officials colluded with tech companies to censor social media content raises questions about Fauci's involvement in orchestrating government-sanctioned COVID narrative.
Originally tweeted by Robert F. Kennedy Jr (@RobertKennedyJr) on December 7, 2022.
New evidence has emerged that suggests that Dr. Anthony Fauci not only initiated efforts to cover up evidence pointing to a lab origin of SARS-CoV-2 but actively shaped a highly influential academic paper that excluded the possibility of a laboratory leak.
Fauci's involvement with the paper wasn't acknowledged by the authors as it should have been under prevailing academic standards. Neither was it acknowledged by Fauci himself, who denied having communicated with the authors when asked directly while testifying before Congress earlier this month.
The article "The Proximal Origin of SARS-CoV-2" was co-authored by five virologists, four of whom participated in a Feb. 1, 2020, teleconference that was hastily convened by Fauci, who serves as director of the National Institute of Allergy and Infectious Diseases (NIAID), and Jeremy Farrar, who heads the UK-based Wellcome Trust, after public reporting of a potential link between the Wuhan Institute of Virology in China and the COVID-19 outbreak.
The initial draft of "Proximal Origin" was completed on the same day the teleconference, which wasn't made public, took place. Notably, at least three authors of the paper were privately telling Fauci's teleconference group both during the call and in subsequent emails that they were 60 to 80 percent sure that COVID-19 had come out of a lab.
Thanks to Robert Kennedy Jr. and his production release of "The Real Anthony Fauci" we know the truth. The NIH Director in China, George Gaio notified Fauci that covid leaked from his lab on September 12, 2019, suggesting that the virus leak was intentional. Note, Event 201 took place in October, just one month after Gaio notified Fauci of the leak.
Fauci's daughter worked for Twitter up until one year ago!
Fauci was asked whether he knows anyone who works for a social media company, besides Zuckerberg. Zuckerberg is one of the huge investors in the covid 19 Pfizer vaccine.
"Like, do you have acquaintances, people that you know, who work at social media platforms?" John Sauer, Missouri's solicitor general, asked Fauci.
"Well, a person who used to work as a software engineer for Twitter was my daughter," Fauci said.
Fauci said he never discussed with his daughter the content posted on social media or the origins of COVID-19. Right, like we believe anything you say Fraudci.
Fauci said his daughter stopped working at Twitter over a year ago and that he does not know anyone else who works at a social media platform. She worked there long enough to do his bidding and censor Twitter posts. There are more #TwitterFiles that will be dumped any day now, we will find out the truth. Elon Musk means business and is hardcore at all of the truth surfacing to expose the collusion of censorship. On Tuesday Jim Baker was exited out of the building for his role.
Twitter's internal communications at the time show that Baker was involved in discussions about whether the laptop falls under Twitter's "hacked materials" policy. Baker was creating a false narrative that the #TwitterFiles had been hacked.
"I support the conclusion that we need more facts to assess whether the materials were hacked," Baker wrote in one email chain. "At this stage, however, it's reasonable for us to assume that they may have been and that caution is warranted."
Never forget that Baker was involved in RussiaGate – Before joining Twitter, Baker also worked as general counsel at the FBI, where he was a key figure in the bureau's investigation into alleged Russian interference in the 2016 presidential election.
Will anything happen to this guy? Will we see justice, #CrimesAgainstHumanity? Probably not, he is well protected as a Pentagon asset – receiving 1.6 Billion funding per year. This began years ago before the Anthrax days. The Pentagon wanted to create a bioweapon but thought it would be too suspicious if it came out that the bioweapons created were from the Pentagon, and that is where the NIH and Fauci came into the picture. And yes, Fauci created Anthrax, AIDS and every other virus we have experienced. Watch the documentary "The Real Anthony Fauci" for more detailed information.
TWITTER FILES
AFL Lawsuit Uncovers More Damning CDC Documents Revealing Twitter's "Partner Support Portal" for COVID-19 Related Censorship and the U.S. Government's Advancement of "Social Inoculation" Against the "Infodemic"
Following the #TwitterFiles, America First Legal [AFL] has obtained new documents uncovering a secret Twitter portal U.S. Govt officials used to censor dissenting COVID-19 views and violate the First Amendment.
WASHINGTON, D.C. – Today, America First Legal (AFL) released the fourth set of shocking documents obtained from litigation against the Centers for Disease Control and Prevention (CDC) revealing further concrete evidence of collusion between the CDC and social media companies to censor free speech and silence the public square under the government's label of "misinformation."
This nearly 600-page release of documents contains new appalling information. Among these include the fact that Twitter ran a "Partner Support Portal" for government employees and other "stakeholders" to submit posts that it would remove or flag as "misinformation" on its platform. Documents obtained by AFL show Twitter enrolling one government employee, through their personal Twitter account, into this Portal. We know from other publicly related documents, that Facebook has copied this approach for election-related censorship.
This production also reveals that the U.S. government was actively working to "socially inoculate"–or brainwashing–the public against anything that threatened its narrative. It did so by using aligned Big Tech corporations to monitor and manipulate users for the purposes of censoring unapproved information and pushing government propaganda. For example, Facebook sent written materials to the CDC in which it bragged about censoring more than sixteen million "pieces of content" containing opinions or information the U.S. government wanted suppressed.
Finally, the documents reveal the CDC was "collaborating with UNICEF, WHO and IFCN member and leading civil society organization Mafindo" to mitigate "disinformation." Mafindo is a Facebook third-party fact-checking partner based in Indonesia that is funded by Google.
What is clear is that the United States government, Big Tech platforms, and international organizations were fully entangled in an intricate campaign to violate the First Amendment, to silence the American people, and to censor dissenting views.
AFL's first release of documents revealed the explicit collusion between the CDC and Big Tech to censor what the Biden Administration deemed "misinformation" and push covert COVID-19 propaganda. AFL's second release built the evidentiary record showing that CDC specifically sent Facebook and Twitter-specific posts to take down, throttle, censor, or flag. AFL's third release revealed that the CDC's mask guidance policies for school children were driven by political polling by liberal dark money group The Kaiser Family Foundation rather than science.
Read through as we highlight the most damning findings from this fourth production of government documents:
GOOGLE HOSTS "TRUSTED MEDIA SUMMIT" FEATURING CDC EMPLOYEES:
/1 🚨🦠BREAKING: Following the #TwitterFiles, AFL has obtained new documents uncovering a secret Twitter portal U.S. Govt officials used to censor dissenting COVID-19 views and violate the First Amendment.

Follow along for disturbing findings from the 500+ page release ⤵️
/2 In August 2021, the head of Google's News Lab for the Asia Pacific region (APAC), emailed a CDC Vaccine Confidence Strategist to invite her to the APAC's "Trusted Media Summit."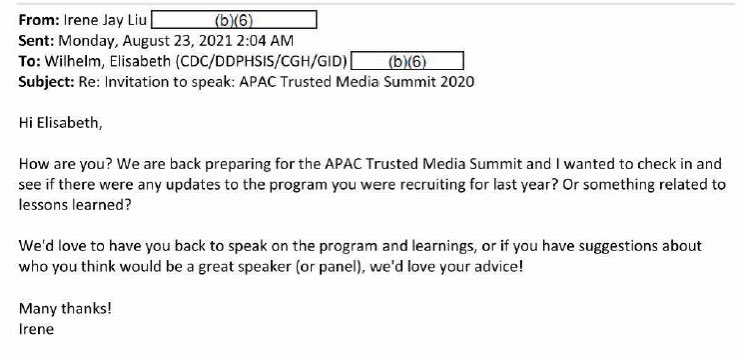 /3 CDC's Vaccine Confidence Strategist then emailed the event planner for Google's APAC Trusted Media Summit, noting her excitement over being invited to what she referred to as "the coolest misinformation fighting speakeasy."

/4 The same CDC employee was then invited to the summit to give a keynote addressing how the CDC was working with WHO and other international organizations to address a so-called "infodemic" and using "social inoculation" to mitigate it.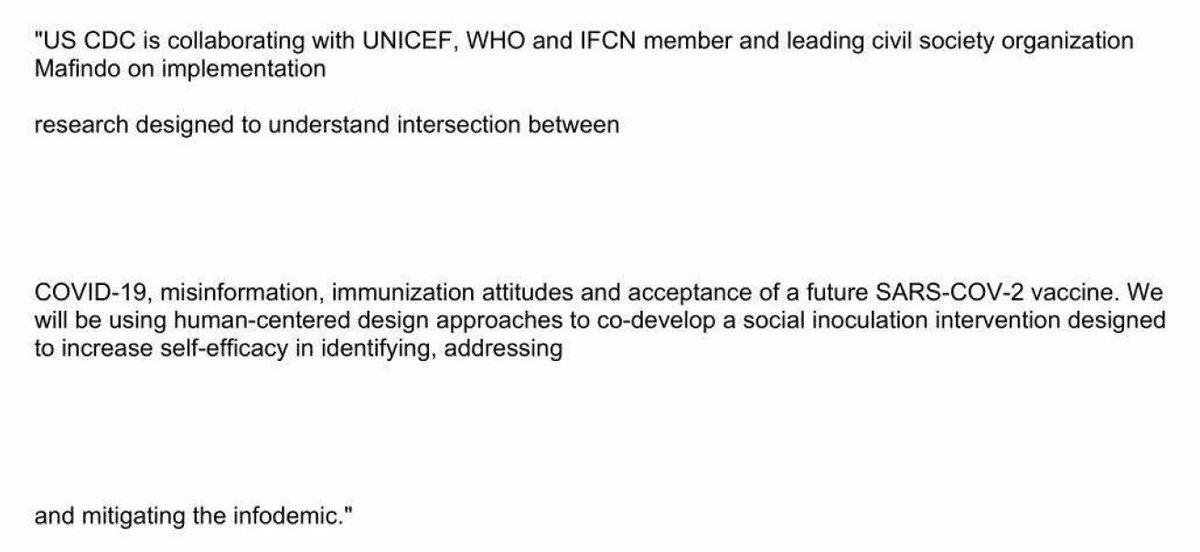 /5 On May 10, 2021, a Twitter employee recommended to a CDC official to enroll in Twitter's Partner Support Portal, which he described as "the best way to get a spreadsheet like this reviewed."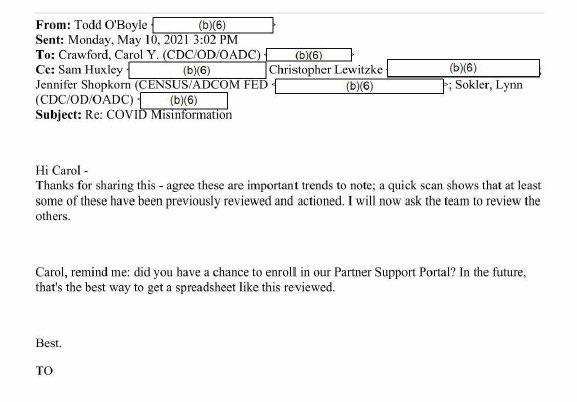 /6 On May 11, 2021, the CDC official enrolled her personal Twitter account into Twitter's Partner Support Portal, which allowed "a special, expedited reporting flow in the Twitter Help Center."
/7 Facebook brags in a slide deck, "We remove claims about the existence or severity of COVID-19 … includ[ing] Claims that COVID-19 is no more dangerous … than the common flu or cold."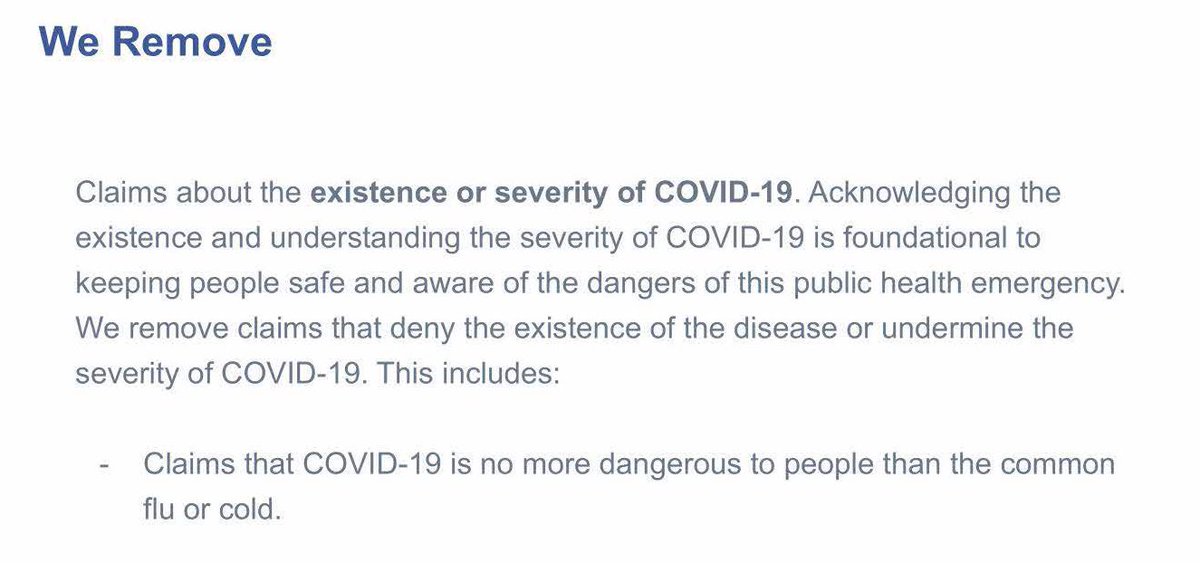 /8 Facebook uses incredibly vague and nebulous standards to judge information:

/9 In its "Widely Debunked Vaccine Hoaxes" section, Facebook claims that "natural immunity is safer than vaccine acquired immunity" despite knowledge that the vaccines did not prevent transmission & what we now know: more vaccinated people are dying now than unvaccinated.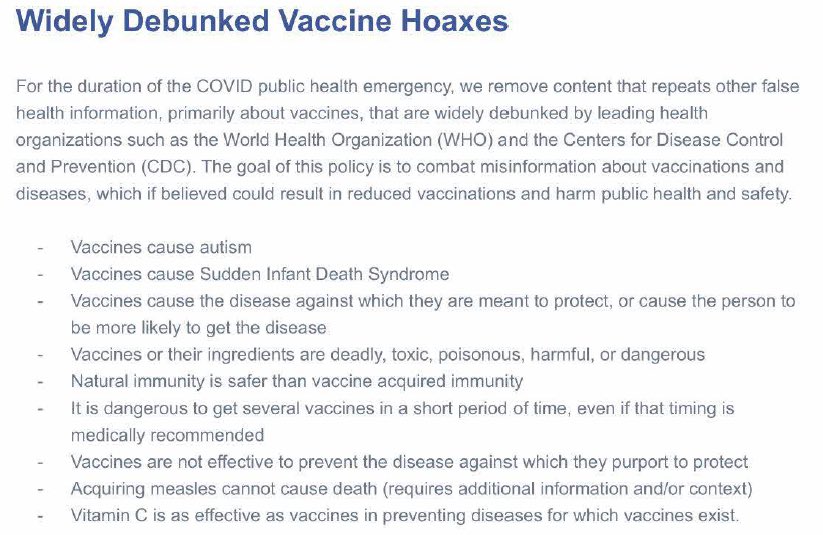 /10 Finally, Facebook boasts of removing over 16 million posts on Facebook and Instagram, including over 2 million between February and May 2021.
/11 Read more now:
Originally tweeted by America First Legal (@America1stLegal) on December 6, 2022.
BILLIONAIRE Hotel Magnate Tom Pritzker, chairman and chief executive of HYATT Hotels, which was founded by his father, Jay. is named in unsealed Epstein documents.
Gov. J.B. Pritzker doesn't know if cousin Thomas Pritzker knew Epstein after name included in sex-trafficking allegations.
Gov. J.B. Pritzker wouldn't say Monday if his cousin Thomas Pritzker should step down as chairman and CEO of The Pritzker Organization after Thomas Pritzker's name was brought up in the Jeffrey Epstein underage sex-trafficking scandal.
Epstein was found dead Saturday morning in his New York jail cell, where he was awaiting trial on charges of sex trafficking teenage girls. Officials suspect he killed himself, but the Department of Justice is investigating.
Epstein, a wealthy financier who had a long list of friendships with prominent people including former President Bill Clinton and current President Donald Trump, was found dead 24 hours after a federal lawsuit from one of the accusers was unsealed.
Video in link below
https://www.thecentersquare.com/illinois/gov-j-b-pritzker-doesnt-know-if-cousin-thomas-pritzker-knew-epstein-after-name-included/article_c334c742-bd46-11e9-bd23-8b0f36d242c9.html
But wait – There's a lot more behind the scenes with this family.
Remember his brother is Governor of Illinois, the same Governor who signed a NO CASH BAIL in Illinois effective January, 2023! These globalist elites are ALWAYS two steps ahead. Why? Because they are all part of the Illuminati and the Illuminati created the CIA and Epstein was a CIA operative. Epstein Island was a "Honey Pot" of satanic child abuse and trafficking. He had cameras in every room in all of his/CIA properties.
Governor Pritzker Signs SAFE-T Act Amendment
Trailer Bill Clarifies, Strengthens Original Bill as Transition to Cashless Bail Approaches
CHICAGO – Governor Pritzker today signed HB1095, a series of amendments and clarifications to the landmark SAFE-T Act, originally passed in 2021. The bill addresses misinformation related to the Act, including clarifying the detention net, expanding processes for transitioning to cashless bail on January 1st, and specifying definitions of willful flight and dangerousness, among other changes.
"I'm pleased that the General Assembly has passed clarifications that uphold the principle we fought to protect: to bring an end to a system where wealthy violent offenders can buy their way out of jail, while less fortunate nonviolent offenders wait in jail for trial," said Governor JB Pritzker. "Advocates and lawmakers came together and put in hours of work to strengthen and clarify this law, uphold our commitment to equity, and keep people safe."
But the surprises don't end there for The BILLIONAIRE Pritzker family.
Billionaire Pritzker family pushing 'Synthetic Sex Identities' on Americans
The extensive reach of the Pritzkers in North America's SSI culture allowed a journalist to conclude that the family 'and others may be well on their way to engineering a new way to be human.'
(LifeSiteNews) – One of the wealthiest families in America is responsible for a drastic change in how America – and by extension, the world – perceives sexual identity, according to an extensive report by journalist Jennifer Bilek in Tablet Magazine.
Link provided below
https://www.lifesitenews.com/blogs/billionaire-pritzker-family-pushing-synthetic-sex-identities-on-americans/
Please subscribe to my blog for instant notifications.